Le Santa Cruz Ocean Spirit a été le théâtre de la Coupe du Monde de Waveski du 22 au 26 Juillet en remplacement des Championnats du Monde qui devaient avoir lieu au Brésil. Peu de compétiteurs ont au final fait le déplacement mais ils ont su assurer le spectacle. Six nations ont été représentées : le Portugal, l'Espagne, l'Italie, la France, le Royaume-Uni et l'Irlande. Notons qu'un seul français était présent, Maxime Gaborit du CKCL. Avec de belles conditions, les compétiteurs ont donner le meilleur d'eux-mêmes toujours dans une bonne ambiance.
Trève de bavardages, voici le classement final :
GRANDMASTERS
3. Gilberto Filgueira (BRE)
3. Stefano Bellotti (ITA)
OPEN DIVISION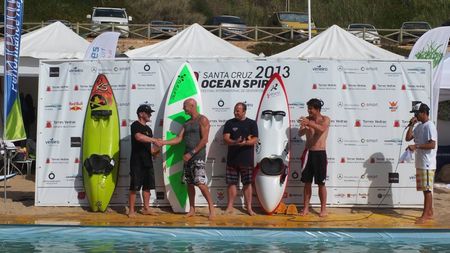 Félicitations à notre Champion du Monde Cadet 2011, Maxime Gaborit qui finit 1er en Juniors et en Open. De plus, il s'est vu remettre par le site KAYAKSURF.NET le trophée des meilleures vagues de la compétition qui lui a valu une note de 8.75 et de 9.25 !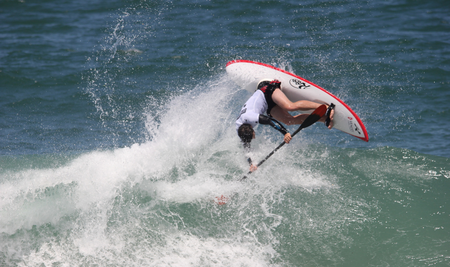 Et pour finir les bonnes nouvelles, Maxime a été invité par les organisateurs de l'Xtrem Pantin en Galice le 10 et 11 Août pour représenter le haut niveau du waveski français.
Merci à Yves Gaborit pour les informations concernant Maxime. Crédits photos : KAYAKSURF.NET

Ce(tte) œuvre est mise à disposition selon les termes de la Licence Creative Commons Attribution - Pas d'Utilisation Commerciale - Pas de Modification 3.0France.
---
The Santa Cruz Ocean Spirit was the scene of the International World Waveski Cup from 22 to 26 July in replacing the World Waveski Surfing Titles scheduled to take place in Brazil. Few competitors have in the end made the trip but they were able to make the show. Six nations were represented : Portugal, Spain, Italy, France, United Kingdom and Ireland. Note that one only French was present, Maxime Gaborit of CKCL. With beautiful conditions, competitors have to give the best of themselves, always in a good mood.
Truce of blabla, here is the final standing.
Congratulations to our 2011 Cadet World Champion, Maxime Gaborit who finishes 1st in Junior and Open. In addition, he was awarded by the site KAYAKSURF.NET the trophy of the best waves of the competition that earned him a score of 8.75 and 9.25 !
To finish the good news, Maxime was invited by the organizers of the Xtreme Pantin in Galicia the 10 and 11 August to represent the highest level of French waveski.