C'est parti pour le Santa Cruz Ocean Spirit 2013 ! L'évènement portugais de la glisse prend de plus en plus d'ampleur chaque été ! Surf, kayak de mer, waveski, skimboard, SUP, tous les sports nautiques ont leur compétition !
Après l'annulation des mondiaux de waveski au Brésil, l'Association Internationale de Waveski Surfing a décidé d'organiser une coupe de monde pendant cet Ocean Spirit afin de ne pas léser les compétiteurs.
Cette Coupe du Monde commence le 22 et se tiendra jusqu'au 26 juillet. Il est encore temps de vous inscrire et de partir ! En marge des compétitions, des concerts, des soirées, des initiations et de nombreuses animations sont proposés.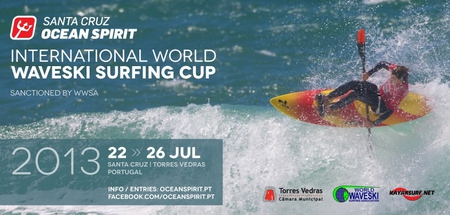 La compétition est à suivre sur la page Facebook de l'évènement, sur Kayaksurf.net ainsi que sur leur page FB et vous trouverez plus d'informations sur le site de l'Ocean Spirit.


Ce(tte) œuvre est mise à disposition selon les termes de la Licence Creative Commons Attribution - Pas d'Utilisation Commerciale - Pas de Modification 3.0 France.
---
The Santa Cruz Ocean Spirit 2013 is on ! The Portuguese event of sliding is becoming more and more important every summer ! Surfing, sea kayaking, waveski, skimboard, SUP, all water sports have their competition !
After the cancellation of the Wavski World Champ in Brazil, the World Waveski Surfing Association decided to organize a world cup during the Ocean Spirit in order not to disappoint the competitors.
The World Cup starts on 22 until July 26. There is still time to sign up and go ! After the competitions, concerts, parties, initiations and many activities are offered.
You can folllow the competition on the Facebook event page, on Kayaksurf.net and their FB page and you will find more information about the competition on the site of the Ocean Spirit.