Avril est maintenant terminé et les Championnats du Monde de Waveski n'ont pas eu lieu. Certains pays avaient peut-être la possibilité de les organiser en vitesse mais rien n'a aboutit.
Mais depuis mi-mars, une solution, qui apparemment satisfait la majorité des riders, a été trouvée. Une coupe du monde serait organisée pendant le Santa Cruz Ocean Spirit du 22 au 26 juillet 2013 à Torres Vedras (Portugal), évènement qui avait accueilli les Championnats du Monde de Waveski en 2011. Cette coupe du monde se déroulera conformément aux règles et conditions de la WWSA et les organisateurs assurent faire de leur mieux pour que cette compétition soit à la hauteur.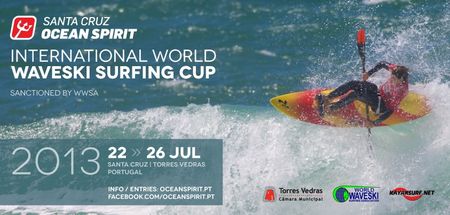 Plus d'infos à venir sur le site du Santa Cruz Ocean Spirit et sur leur Facebook.


Ce(tte) œuvre est mise à disposition selon les termes de la Licence Creative Commons Attribution - Pas d'Utilisation Commerciale - Pas de Modification 3.0 France.
---
April is now complete and the World Waveski Surfing Titles have not occurred. Some countries might be able to organize in speed but nothing succeeds.
But since mid-March a solution, which apparently satisfied the majority of riders, was found. A World Cup would be held during the Santa Cruz Ocean Spiritfrom the July 22th to 26th in Torres Vedras (Portugal), an event that hosted the World Championships Waveski in 2011. This World Cup will be held in accordance with the rules and conditions of WWSA and organizers ensure they do their best for this competition.
More informations on the website of the Santa Cruz Ocean Spirit and on their Facebook.